SAN PABLO CITY WATER DISTRICT
joins the celebration of the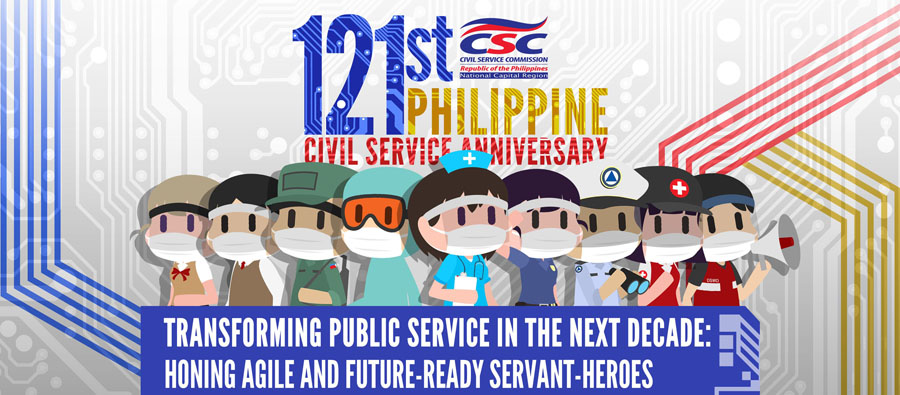 Pursuant to Presidential Proclamation No. 1050, series of 1997 declaring the month of September as the Civil Service Month, the San Pablo City Water District joins the celebration of the 121st Anniversary of the Philippine Civil Service in September 2021, with theme, Transforming Public Service in the Next Decade: Honing Agile and Future-Ready Servant-Heroes. Reflecting the path the civil service has to take to build on the gains of last year's modernization efforts in the wake of the COVID-19 pandemic, and the role of HR in building a competent and credible workforce in the new normal.
Below are the proposed the month-long activities of SPCWD for the Civil Service Month, per CSC Memorandum No. 9, s. 2021.
WEEK 1: Linggo ng LingkodBayani
Virtual Flag Ceremony : 121st CIVIL SERVICE MONTH KICK OFF CEREMONY
6 September 2021
Kick off ceremony for the Civil Service Month, to be graced by the SPCWD Board of Directors.
WEEK 2: Linggo ng Paglilinang ng Yamang Tao
Virtual Negosyo
17 September 2021
Is a virtual presentation of Business Success Stories, or Business Tutorials from credible speakers who havehigh credentials in their chosen fields. It may become an additional livelihoodopportunity to some.
WEEK 3: Linggo ng Malasakit
Health and Wellness Awareness
22-23 September
Distribution of Vitamin C and disinfection kit to all employees.
SPCWD Community Pantry
20-24 September
The idea is sharing. This will entail no cost to SPCWD. It is a voluntary contribution/donation of employees to give to co-employees(JOs and Security Guards included) who are having a hard life this time of pandemic.
Donations shall be in form of canned goods, rice grocery items and other basic needs. Other donations from other organizations/people are welcome.
The Pantry shall be set up at the RTC.
WEEK 4: Linggo ng Pasasalamat (27-30 September)
SPCWD Digital Song and Dance Concert
28 September 2021
Song/Dance extravaganza to be participated by all employees. Each department shall have a contribution. A stage shall be set up at the RTC.All performances are pre recorded. Participants will be scheduled to use the stage to record their performances, but it will be presented virtually by a live hosts/emcees. Employees can be creative, that they may even present a different kind of performance fit for a concert. However, the presentation shall still be screened by the assigned committee. This is a contest, and prizes shall determined by the committee also.
Bilib Kami Sa'yo Ang GalingMo: Virtual Employees' Rewards and Recognition 2021
30 September 2021
Now on is 4th year, this Employees' Rewards and Recognition is being done every September during the Civil Service Month. Due to pandemic, the R&R is being done virtually for the second time now. The SPCWD R&R system is designed to encourage creativity, innovativeness, efficiency, integrity and productivity in the public service of SPCWD employees. It recognizes and rewards officials and employees, individually or in groups for their suggestions, inventions, superior accomplishments and other personal efforts which contribute to the efficiency, economy, or other improvement in SPCWD operations, or for other extraordinary acts or services in the public interest.
The SPCWD PRAISE shall apply to all employees in the career and non-career service of the District.
The Nomination for the awards shall start by first week of September. The PRE-ASSESSMENT TEAM (PAT) or the team created to assist the PRAISE Committee in the evaluation of nominations for an award, whether, individual or group shall be re-activated by then. Each Department Manager has appointed three (3) members to compose the PAT to represent his/her respective Department. Changes in the membership of PAT may be done prior evaluation. PAT shall be responsible for the initial screening and selection of nominees based on the approved criteria of a certain award.PAT shall make a formative and evaluative assessment of the nominees to be submitted to the PRAISE Committee
SPCWD Binalot Fiesta
30 September 2021
Binalot for lunch during the Employees' Rewards and Recognition rites.