2022 National Women's Month
Theme: We Make Change Work for Women
Sub Theme: AGENDA NG KABABAIHAN TUNGO SA KAUNLARAN
March 1-31, 2022

The National Women's Month Celebration (NWMC) every March is part of the worldwide observance of the International Women's Day.

The following issuances serve as legal bases for the annual national activity:

• Proclamation No. 224 s. 1988 declaring the first week of March each year as Women's Week and March 8 as Women's Rights and International Peace Day
• Proclamation No. 227 s. 1988 providing for the observance of the Month of March as Women's Role in History Month
• Republic Act (RA) 6949 s. 1990 declaring March 8 of every year as National Women's Day.

In addition, the country also celebrates the Girl Child Week and the Women with Disabilities Day within the Women's Month pursuant to the following:

• Proclamation No. 759, s. of 1996 - Declaring every fourth week of March as the Protection and Gender-Fair Treatment of the Girl Child Week. This underscores the need to provide every girl who is below 18 years of age with equal opportunities and adequate protection to prepare her for a role in community development.
• Proclamation No. 744, s. of 2004 – Declaring the last Monday of March of every year as Women with Disabilities Day to emphasize the inclusion of women with disabilities within the society who deserve equal rights in the field of law and in all aspects of human endeavor.
2017-2022 NWMC Theme: WE Make CHANGE Work for Women
Culminating the 6-year theme "WE Make CHANGE Work for Women" this year poses a statement and a question: Did WE Make CHANGE Work for Women? How and to what extent? With this theme, stakeholders can gauge the changes implemented towards GEWE, pursuant to laws on women, particularly the Magna Carta of Women.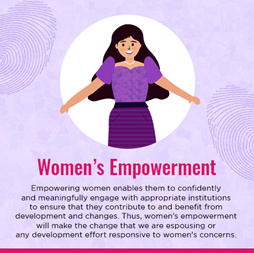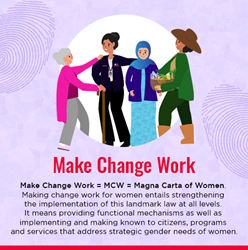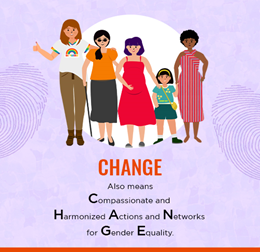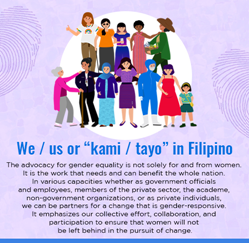 OBJECTIVES
The 2017-2022 NWMC generally aims to:
• inform and engage women as stakeholders of government programs and services – to promote citizen-centric governance and make "change" a conscious effort to know, understand, and provide what ALL citizens need
• create and facilitate platforms to discuss good practices, gaps, challenges, and commitments in pursuing gender and development (GAD) – to strengthen implementation of the Magna Carta of Women
• inspire and empower women and girls to be agents of change – to contribute in promoting gender equality and the empowerment of all women

Focus for NWMC 2022: Agenda ng Kababaihan, Tungo sa Kaunlaran
To cap the six-year recurring theme, the 2022 NWMC will focus on the sub-theme: Agenda ng Kababaihan, Tungo sa Kaunlaran.
It will be a celebration of women exercising their choices, taking chances to make their voices heard, and benefitting from and trailblazing changes. It is a celebration of Filipino women's power to take the narrative, raise priority issues that matter to them, and call for concrete actions.
As the PCW continues to push for gender equality and women's empowerment (GEWE) in leadership, governance, and public service, this year's sub-theme focuses on including women's concerns in the government agenda and enabling more women to implement and at the same time, demand programs and services that can bring the country closer to narrowing the gender gaps and moving towards sustainable and equitable development.
Specifically, this year's celebration calls on stakeholders from both the government and private sector to:
• Assess the gains already achieved towards GEWE and prevent sliding back as a result of the COVID-19 pandemic and other national issues;
• Inspire actions to promote a gender-responsive pandemic recovery; and
• Draw attention to the priority gender issues that must be addressed by future public servants, as outlined in the recently-updated GEWE Plan which spans until year 2025.