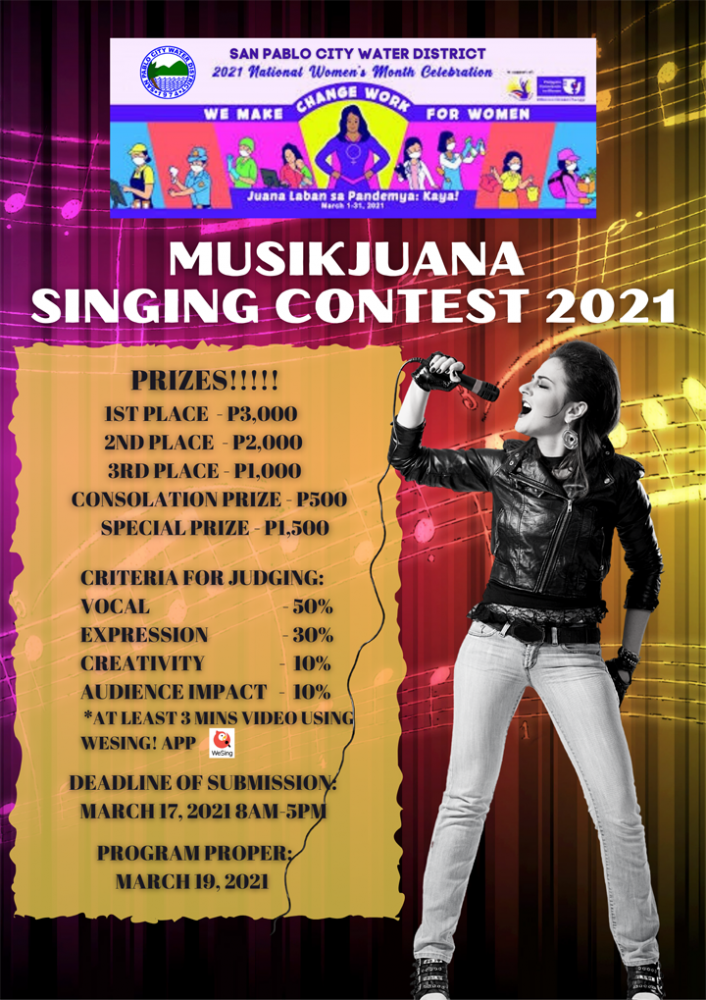 MUSIKJUANA SINGING CONTEST
THEME: "JUANA LABAN SA PANDEMYA: KAYA!"
March 19, 2021
CONCEPT
1. Amateur Virtual Singing Contest
2. Each participant shall submit a at least 3 minute Singing Video
3. The video will be shown during the contest proper virtually
4. There will be 3 winners (1st, 2nd and 3rd prize)
5. Those who will join will have consolation prize
6. Song must be all about women, women empowerment (no negative songs shall be accepted)
7. The entries must be approved by the Focal People assigned
8. Budget Requirement and Criteria will be on the focal people assigned to be presented to the GAD Committee
9. Each Division is encouraged to have a representative
MECHANICS
1. All Participants will sing their song choice in any language (English or Tagalog) using WeSing! Application (available in Google Play store or Apple Store).
2. Deadline of submission of title of the song to the focal person will be on March 10-12, 2021, to evaluate the song if there will be a *negative or foul word. If identified with negative or foul word, participants should submit another song.
3. Background should be in a safe and decent place/s.
4. Attire will depend on the creativity of each participant. It should be presentable with no revealing clothes.
5. Cash Prize (Gift Certificate) for each category will be as follows:
1st Place - P3,000.00
2nd Place - P2,000.00
3rd Place - P1,000.00
Consolation Prizes - P 500.00
Most Liked Video - P1,500.00 (special prize)
6. Maximum of 3 participants each Department is encourage to participate (men or women).
7. Entry of each participants should be submitted to the focal person on or before March 17, 2021. It will be posted in our Official Website for public voting. Cut-off of voting will be on March 19, 2021 5 p.m.
8. On March 19, 2021 the ICTS will be presenting the entries submitted via Zoom. The focal person will provide three (3) judges outside the District.
9. Announcement of winners will be on March 31, 2021, at the closing of the event.
*Negative or Foul Words – These are offending words like: curse, sensual lyrics and other related words.
CRITERIA FOR JUDGING
• VOCAL 50% - Tone Quality, Intonation, Rhythm and Tempo
• EXPRESSION 30% - How well the performer is able to express the meaning and
mood of the song
• Creativity 10% - Background, Outfit and style
• Audience Impact 10% - The audience's and judges' reaction to the overall
• Performance (50% from the public votes and 50% from the Judge vote)